Apps are the cornerstone of the iPhone – what really set it apart from Android. The best iPhone apps are typically best in class.
However, finding the greatest apps among the millions available isn't easy, and so we've done the hard work for you.
Our lists compile the very best the iPhone has to offer, whether using your iPhone for photos, video, drawing, music, office tasks, reading,
NanoStudio 2
NanoStudio 2 is the follow-up to indie darling NanoStudio, a critically acclaimed iPhone app that let musicians crank out ear-fizzing electronic tunes on an iPhone before GarageBand for iOS was a twinkle in Apple's eye. However, whereas NanoStudio felt like a silo (albeit an impressive one), NanoStudio 2 is more like a hub.
The app comes with two hugely impressive instruments. Obsidian is a synth with loads of filters and parameters, enabling a wide range of sounds. 300 presets are built in. Slate is a performance pad, designed for samples and drums. But you can also load Audio Units to further expand your audio soundscape.
Apollo
Apollo enables you to apply new light sources to Portrait Mode photos. This kind of photo records depth information, and can be shot on any relatively recent iPhone (iPhone 7 Plus/8 Plus/any 'X' iPhone). In Apple's Photos app, you can add studio-style lighting, but Apollo takes things further.
The interface is usable, and offers scope for creativity. It's simple to add multiple lights, and then for each one define distance, color, brightness, spread, and mask effects for simulating effects such as shadows being cast from light coming through a window blind.
Apollo perhaps isn't an iPhone app if you want an instant fix. It demands you delve into the details, and fine-tune your settings. Also, it doesn't always create a realistic result. But when it works, this is a little slice of magic, enabling you to apply complex lighting to a photo after the fact.
TouchRetouch
TouchRetouch can rid photos of unwanted elements. Such tools are commonplace – even in free apps like Snapseed – but TouchRetouch being dedicated to the task affords it focus; more importantly, the tools you get are really good.
Blemishes on faces can be removed with a tap. Larger objects can be painted out, whereupon the app fills in the gaps. Alternatively, you can clone from one part of the image to another. There's also a line remover, which smartly makes short work of power lines and the like that otherwise carve their way across your pic.
Obviously, automation of this kind has some shortcomings – TouchRetouch can't match desktop apps where you partake in painstaking, time-consuming, pro-level retouching. But for the average iPhone owner wanting to remove annoying things from pics, it's well worth the small outlay.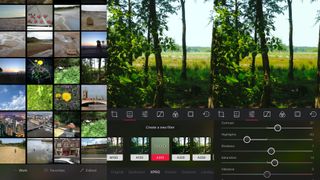 Glitch Art Studio
Free + $4.99/£4.99/AU$7.99 IAP
Glitch Art Studio is an impressive and arresting photo effects app that brings texture and character to even the most mundane snap. This is achieved by way of slathering on all kinds of distortion effects, up to the point where you're left with something that's barely recognizable as a photograph.
We're not kidding. The first few presets (available in the free app) give you an indication of what's in store, making videos and stills alike look as if they're being displayed on an ancient, very broken television. But further filters come across like you're stuck inside a kaleidoscope or are having a full-on hallucinogenic episode.
If the presets don't do it for you, you can make custom ones by working with a slew of settings; and when done, you can output your eye-popping miniature masterpieces as stills or videos.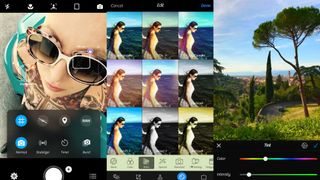 Camera+
Camera+ is a combined camera and editor. Despite the wealth of available options, the interface is initially quite minimal, with a modes strip across the top of the screen, a zoom slider, and the shutter. But tap the + button and you reveal further modes, including a timer, a stabilizer and smile detection.
Similarly, tap the viewfinder area and Camera+ enters a 'pro' mode, with manual controls, and scene options for shooting under specific lighting conditions. The interface is finicky compared to Obscura 2, but Camera+ is undoubtedly powerful.
Post-shooting, you can edit with adjustment tools, filters, and frames in the Lightbox. This all comes across as impressively friendly and straightforward, and although the range of tools doesn't compare to Snapseed's, it's enough to keep you within the one app for the most part.